Press & Web media
↓ scroll down ↓
(ENG) Saatchi Art Blog (UK). 03/09/2015.
(CAT) Art Neutre (Catalunya, Spain). 19/05/2015.
"Mataró, Catalunya | "Des del marge" de Miquel Wert | La Destil·leria".
(CAT) Pere Pascual (Catalunya, Spain). 09/05/2015.
"El Dibuix. Miquel Wert". By Pere Pascual (PIC).
(ESP) A R T N A U (Spain). 10/04/2015.
(FR) Hello Boulogne-Billancourt (France). 13/02/2015.
"La rencontre de la semaine : Green Flowers Art Gallery"
(CAT) Bonart (Catalunya, Spain). 12/01/2015.
"Fort Pienc acull el resultat dels intercanvis creatius amb Tunis".
(ESP/CAT) La Vanguardia (Spain). 21/07/2014.
"Cyan abre un nuevo espacio con una muestra de pintura actual barcelonesa". By Juan Bufill.
(CAT) Bonart (Catalunya, Spain). 17/06/2014.
"Cyan Art Gallery inaugura local al carrer Balmes 88".
(ESP/CAT) Cultura/s | La Vanguardia (Spain). 21/05/2014.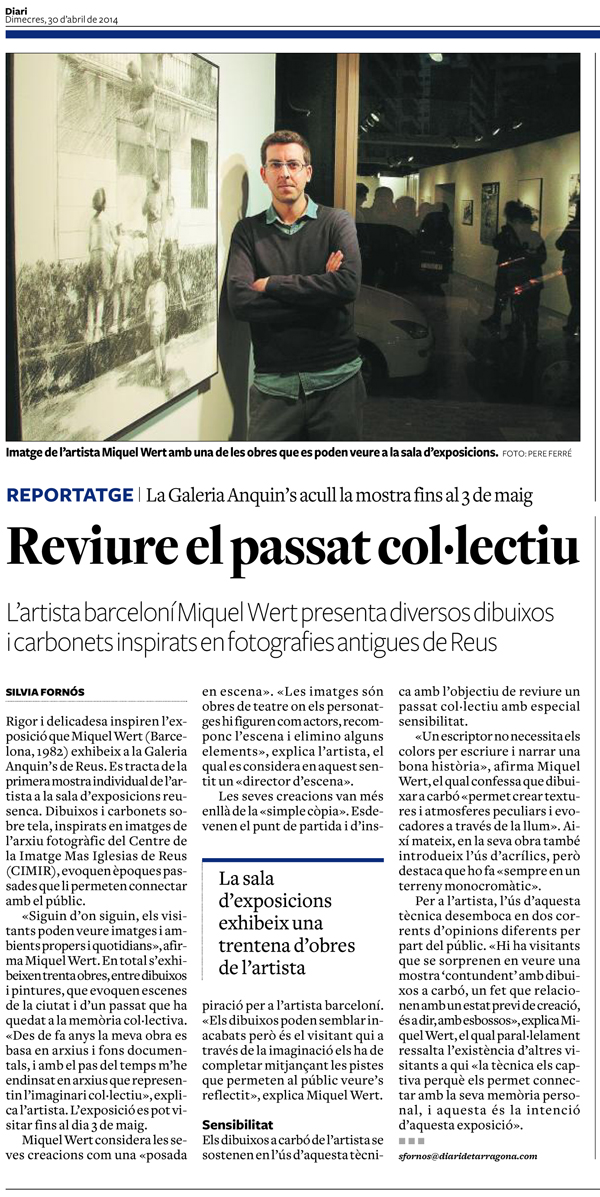 (CAT) Diari de Tarragona (Tarragona, Spain). 30/04/2014. 
"Reviure el passat col·lectiu". By Silvia Fornós.

(CAT) Revista NW (Reus, Spain). 04/2014.
"Les fotografies de Mas Iglesias en dibuix".
(CAT) Bonart (Catalunya, Spain). 25/04/2014.
"Vídeo i visita guiada a l'exposició de Miquel Wert a la Galeria Anquin's".
(CAT) Art Neutre (Catalunya, Spain). 04/04/2014.
"Exposició de Miquel Wert a l'Anquin's de Reus".
(CAT) Bonart (Catalunya, Spain). 27/03/2014. 
"Dibuixos i carbonets de Miquel Wert a la Galeria d'Art Anquin's".
(ESP) Arteinformado (Spain). 27/03/2014.
(CAT) Bonart (Catalunya, Spain). 25/08/2013.
"Miquel Wert exposa en el Centre Cívic Fort Pienc".
(CAT) Regió 7 (Catalunya, Spain). 11/06/2013.
"Konventpuntzero posarà a debat la moralitat a Cal Rosal amb l´obra de 32 artistes".

(CZ) Deník (Czech Republic). 03/08/2012.
"Možnosti dialogu přináší v letním čase Galerie Beseda". By Břetislav Uhlář.

(FR) L'Officiel des Galeries & Musées #51 (France). 2012.

(FR) Art Actuel – Le Magazine des Arts Contemporains (France). 02/2012.

(ESP) Oh My Goodies! (Spain). 08/02/2012.
"El pasado atemporal de Miquel Wert".
"Videocámaras HD, teléfonos con cámaras de 8mpx, televisores 3D… todo para conseguir la imagen perfecta, la más realista y con mejor definición, pero no por ello la más interesante.
Miquel Wert a través de su pintura nos da una lección; la fuerza e intensidad de una imagen está en nuestra mente, sólo hay que saber motivarla, darle alas, y a Miquel eso se le da mejor que bien. De situaciones cotidianas nos arranca historias que empiezan y acaban donde cada uno de nosotros queramos. Con una técnica muy definida y realista, capta la atención del espectador, pero intencionadamente quedan partes borrosas, sin definir y somos nosotros quienes las cerramos; nosotros decidimos como acaba la historia.
Miquel Wert inspira esa elegancia y nostalgia evocada por escenas familiares y cotidianas de antaño, que en el caso de los murales contrasta con los soportes urbanos. (…)"

(FR) Le Dauphiné Libéré (France). 01/12/2011.
"Miquel Wert expose à l'Art du Temps".

(FR) La Tribune de Montélimar (France). 11/2011.
"Dompter le fragile fusain". By Justine Minet.

(FR) AZART. Magazine International de la Peinture (France). Nov-Dec 2011.
(ESP) 40fakes (Spain). 19/05/2011.
(FR) La Presse de Tunisie (Tunisia). 07/05/2011.
"Les frontières s'abolissent, le temps d'une rencontre". By Meyssem Marrouki.

(ENG) The Freak Show – Online Gallery (UK). 12/04/2011.
By Raji Kaur.
"These beautiful illustrations remind me of a time that I can only be shown, because I most probably didn't exist. They seem like the type of artistry that would come of a person with limited means living in the 40's or 50's. This can perhaps be identified by not only the evidently basic tools used but also by the content; most telling are the school children, sitting disciplined at their single desks – their dresses, hairstyles and teacher give away the time immediately.
This is clearly a very unique and beautiful talent that should be admired for capturing with such primitive nature, considering the tools available today to render this texture in a mere few moments."

(ENG) Vivianite – The Painters Blog. 26/03/2011.
(CAT) Diari de Tarragona (Spain). 28/11/2010.
By Begoña Ruiz.

(CAT) Diari L'H (Barcelona, Spain). 21/11/2010.
(FR) La Presse de Tunisie (Tunisia). 20/06/2010.
"Propositions alternatives pour un art actuel". By N.T.

(FR) Le Renouveau (Tunisia). 15/6/2010.
"Une symphonie baroque". By Nadia H.

(FR) Le Temps (Tunisia). 10/06/2010.
"Défilé de souvenirs". By Nadia Zouari.

(FR) Tunis Hebdo (Tunisia). 7 – 13/06/ 2010.
"Visions diverses, expériences plurielles". By Jameleddine B.A.

(FR) La Presse de Tunisie (Tunisia). 06/06/2010.
"Une brise erratique nous prend par la main…". By Selima Karoui.

(FR) Le Temps (Tunisia). 06/06/2010.
"Huitième Printemps des Arts de La Marsa". By Nadia Zouari.

(ARA) Essahafa (Tunisia). 03/06/2010.
By Amor Ghedamsi.
(FR) Tunis Hebdo (Tunisia). 31/05 – 06/06, 2010.
"Tunis-Barcelone à el Teatro".

(ENG) PaintBlog (Canada). 07/12/2009
By Eric Cator.
"Do you remember the scene in "Eternal Sunshine of the Spotless Mind" where Jim Carrey is frantically running around inside his mind trying to salvage his memories as a team scrambles to erase them from his bedside? That intense sense of witnessing your memories evaporate right in front of you has been captured by artist Miquel Wert. His haunting paintings feature blurred figures in snapshot moments; fragments of the past caught in a suspended state of hazy, diminished memory, and I am a big fan."

(ESP) La Vanguardia (Spain). 06/12/2009.
"Delicartessen 8 reúne cerca de trescientas obras". By Juan Bufill.

(ENG) The Jealous Curator (USA). 04/12/2009.
"Vintage family photos are one of my favourite things. I love the relaxed/familiar body language, the stories you can't help but inject, and the little peek you get into other people's lives. These paintings (oil and charcoal mixed lovingly together) are by Spanish/Swedish painter Miquel Wert. I've seen a lot of work that references old family albums, but these are definitely unique. All of his pieces have a very ghostly quality, with most of his subjects being faceless. To me, it feels like memories that are slowly fading away. A bit sad, but beautiful none-the-less."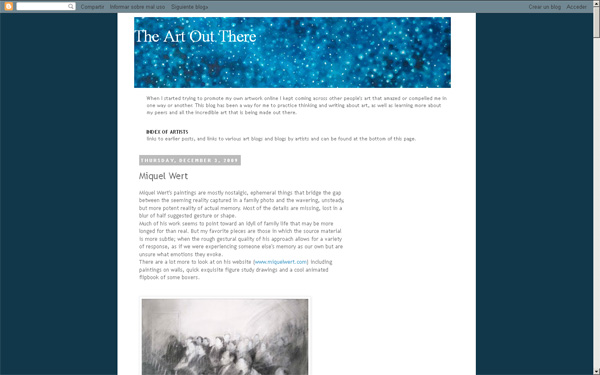 (ENG) All the Art out There. (USA). 03/12/2009
By David Carmack Lewis.
"Miquel Wert's paintings are mostly nostalgic, ephemeral things that bridge the gap between the seeming reality captured in a family photo and the wavering, unsteady, but more potent reality of actual memory. Most of the details are missing, lost in a blur of half suggested gesture or shape.
Much of his work seems to point toward an idyll of family life that may be more longed for than real. But my favorite pieces are those in which the source material is more subtle; when the rough gestural quality of his approach allows for a variety of response, as if we were experiencing someone else's memory as our own but are unsure what emotions they evoke. (…)"
(FR) Gazou (France). 10/05/2009.
"(…) Un des artistes surtout a retenu notre attention, : Miquel Wert…
Tout est en noir et blanc… Mais cela ne provoque aucune lassitude… Ses personnages sont tellement vivants qu'on les croirait présents dans la salle et s'ils se mettaient à parler , nous n'en serions nullement surpris.
Il a fait ses études à l'Ecole de Barcelone et il a développé une technique très personnelle utilisant l'huile, le fusain et l'acrylique.
C'est un tout jeune artiste puisqu'il est né en 1982.
Nous sommes repartis, tout joyeux de cette découverte, enrichis par cette rencontre."

(ENG) Juxtapoz Magazine. 10/03/2009.
(ENG) This is London. (London, UK). 12/2008.
By David Gates.
"Must see exhibition if you are interested in the way Street Art has progressed into the galleries. This is not tagging or stencilling, but some really original works on canvas from some of the most interesting Catalan artists. (…)
M. Wert's faint monochrome portraits have a feel of vague, disappearing remembrances of a forgotten past when life was all much simpler. (…)
I recommend you go and have a look for your self."

(FR) Ouest-France (France). 22/05/2008.
"Quelques espaces clairs sur le mur d'exposition. Carrés ou presque. L'oeil est attiré par cette blancheur à la fois pâle et grise qui résonne comme les images d'un souvenir. Très photographique et imprimée en flou comme dans les mémoires. C'est sans doute le propos graphique de Miquel Wert (…). Les images sont celles d'archives, familiales ou de presse, des scènes glanées ça et là. Des photographies qui serviront de prétexte à une recomposition acrylique en gris, noirs et blancs mêlés. Comme un pain levé de diverses moissons : des silhouettes, des visages, des ombres, des « impressions » surtout… « Je ne peux pas dire si je vois les choses en couleur, mais cette transposition en noir et blanc m'est très naturelle, comme si je touchais à une réalité plus essentielle… » explique le jeune artiste qui explore aussi, sur une autre part de l'exposition, le mouvement décomposé image par image. Belle introduction à la «toile»…"

(CAT) El Punt Digital / Vilaweb (Catalunya, Spain). 20/09/2005.
"Cap a on va l'art". By M.Palau.
"Més que una fórmula màgica per descobrir els nous valors artístics, l'històric Premi a la Pintura Jove que la Sala Parés organitza des de l'any 1958 és un termòmetre màgic que s'infiltra a les aixelles de tot el sector. Aquest premi, que des de fa uns anys patrocina la Fundació Banc Sabadell, revela en quin moment es troba l'art actual, cap a on va i què ha deixat enrere. Queden pocs dies per veure les obres i els artistes seleccionats d'enguany. Val la pena treure-hi el cap. Una bona ocasió pot ser demà, a les vuit del vespre, a l'acte d'entrega dels premis. La col·lectiva presenta treballs originals com el d'Hugo Alonso (Sòria, 1981), amb els seus paisatges urbans maliciosament desenfocats; els aires terriblement melangiosos de Manolo Sierra (Cadis, 1973); la fantasia colorista de Jordi Ribes (Barcelona, 1972; segon premi del certamen), o la sensació de buidor de Miquel Wert (Barcelona, 1982). Sense passar per alt el fervor compositiu amb què treballa Cristina Giménez (Logronyo, 1981), la guanyadora del concurs. El moment de l'art actual és bo i afronta el futur amb ambició. El termòmetre ens diu que la pintura torna. Caldrà seguir de prop les carreres de joves creadors com ara Máximo Almeida (Mataró, 1974), Imma Ávalos (Girona, 1982) i Cesc Farré (Terrassa, 1972). COL·LECTIVA. XLVII Premi a la Pintura Jove Sala Parés. Petritxol, 9. Barcelona 93 318 70 20 Fins al 22 de setembre."
(ESP) "El Punto de las Artes" (Spain). 20 – 26/05/2005.

(ESP) Curator #13 (Spain). 15/05 – 15/08, 2005.

(ESP) El Periódico (Spain). 11/05/2005.